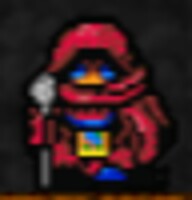 1
2.5 k
A remake of the classic roguelike Lost Labyrinth
Download
48.32 MB
free
Join up to three other players and explore the depths of dangerous dungeons in Lost Labyrinth DX. Like any good roguelike, this game has loads of enemies to beat and traps to avoid as you try to reach...
More information
License
Free
Op. System
Windows
Category
Language
English
Author
Size
48.32 MB
Downloads
2,497
Date
Jan 14th, 2022
SHA256
b9f6c0f27430a170e86d6e5735f5e0b6e04f8f7a067b5aea687f9b70f2289143
Why is this app published on Uptodown?